At Wohlsen, community involvement matters. We care about the places where we live and work, and our team members give back in many different ways. Volunteering our time and efforts are a big part of who we are and we would not have it any other way.
In addition to supporting our local communities, we encourage team members to be active in various civic organizations by volunteering time, serving on boards and committees, or giving financially. Here is a bit of what we do:
National First Responders Recognition Day
As a member of the Delaware Chapter of Associated Builders and Contractors, Wohlsen celebrated National First Responders Recognition Day by providing breakfast to the Claymont Fire Department – Engine 13. It was a pleasure meeting these brave heroes and touring the fire station.
Wohlsen Crusaders
One in three people living in the US will be diagnosed with cancer in their lifetime. That number is way too high – and that's why we formed The Wohlsen Crusaders. For 20 years, our team has raised funds for the American Cancer Society's Relay For Life. From bingo events and sandwich sales, to holiday wreaths, and daffodil fundraisers, the Crusaders work relentlessly to raise awareness and dollars for the Relay For Life. Our year-long, company-wide support culminates at Lancaster's Relay For Life, where we walk around the clock to show our support.
Homefields Care Farm Reroof
25 years ago Wohlsen reroofed the ranch house at Homefields Care Farm and last week we did it again! Thanks to the project team for your work on this project and giving back to a great community organization!
Food Bank of Delaware
Wohlsen's Delaware Valley team recently donated 163 lbs. of food to the Food Bank of Delaware where they also spent some time volunteering. Our volunteers filled and delivered 50+ carts of food to recipients' cars in the distribution facility, packaged 799 boxes of food to be dispersed for the upcoming holiday season, and assisted with set-up for a fundraising event. The experience was humbling, heartwarming and extremely engaging for all of Wohlsen's team members. Thank you to each of these volunteers for a wonderful, shared experience!
Kisses for Kaeden
Wohlsen teammates held a summer cookout and cornhole fundraiser at the Lancaster Operations Center. All proceeds from the event benefited Team "Kisses for Kaeden", a nonprofit who raises funds to donate to the Children's Miracle Network.
One Warm Coat
Wohlsen's Delaware and Greater Philadelphia offices are proud to support One Warm Coat. We are proud to have collected over 50 coats that will benefit Friendship House Clothing Bank in Wilmington, DE this season!
Ronald McDonald House – Roll with Ryder
Roll with Ryder was the match behind Maryland's Holiday Hero Gift Card Challenge donation for The Ronald McDonald House. "Your donation is a helping hand to the families staying at RMH, and coming from our experience, we can say that you just made an ENORMOUS difference. You helped remove some pressure and stress during some of their most difficult days. Thanks to you, these families could keep their focus on where it is most needed-their family."
ABC Keystone Construction Wars
Wohlsen Construction participated in ABC Keystone's Construction Wars, an event which brought hundreds of local middle school students to the association's headquarters to learn about construction and construction careers. Students got to build wooden laptop stands, test electrical circuits, bend sheet metal for their own tool boxes, and more.
Wilmington Downtown Garden
In 2018, Wohlsen participated in the creation of a community garden located in downtown Wilmington, DE. The project transformed an old, vacant lot into an urban garden shared by members of the local community. In addition, the neighboring Salvation Army partnered with the Kiwanis Club of Wilmington to grow vegetables in the garden for the children and seniors served by the club.
Habitat for Humanity
Wohlsen teammates from our Wilmington and Greater Philadelphia offices volunteer their time and talents to assist Habitat for Humanity (https://www.habitat.org/) with the construction of safe, affordable homes for residents in the community.  From laying floors to hanging doors, everyone involved pulls together to accomplish a great deal!
ABC Bowl-a-Thon to Aaron's Acres
Wohlsen teammates participate the Annual Bowl-a-Thon, hosted by Keystone ABC's Young Professional Committee. Each year, a different charity is selected to receive the proceeds from the event. Last year's beneficiary was Aaron's Acres, a group which provides age appropriate recreational programs for children and young adults with special needs.  For more information on Aaron's Acres and to learn how you can support this worthy cause, visit (https://aaronsacres.org/).
Food Bank of Delaware
At least twice a year, Wohlsen volunteers time to the Food Bank of Delaware (https://www.fbd.org/). We have packed over 1,000 boxes of food over the past few years. Additionally, we organize in-office food drives around the holidays.
Vista School's Walk for Education
Wohlsen teammates took part in The Vista School's (www.thevistaschool.org) Annual Walk for Education event.  Funds raised from the event help support the Vista School's programs and serve children with ASD.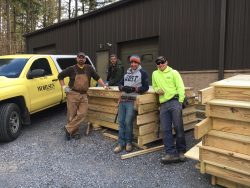 Boy Scouts of America
Wohlsen teammates volunteered their time to build ten new tent platforms for the Boy Scouts of America's (www.scouting.org) Bashore Scout Reservation located in Jonestown, PA
American Heart Association Heart Walk
Wohlsen's Delaware Valley team and their families annually participate and raise funds for the American Heart Association's Heart Walk (www.heartwalk.org) in Wilmington, DE.
ACE Mentor Program
Wohlsen is active in the Central PA affiliate of the ACE (Architecture, Construction and Engineering) Mentor Program. The program is a partnership of industry professionals working together to attract high school students to ACE professions by providing hands-on learning opportunities and encouraging them to pursue studies and careers in these fields. Wohlsen's Operations Center serves as the host site for meetings of the program.
Pedro's House
Pedro Toalo of Wilmington, DE was injured in a violent crime that left him confined to a wheelchair. The Planning Factory of Wilmington rallied supporters from the local community to provide labor and construction materials to renovate Toalo's home and make it more accessible for him and his family. Wohlsen was a proud supporter of the project.