Award of Excellence – Delaware State University
Posted in:
News
on October 28, 2020
Wohlsen is proud to receive an Award of Excellence from Delaware Contractors Association for the new Tubman-Laws Hall at Delaware State University (DSU) in Dover, Delaware.
The new 38,400 sq. ft. Tubman-Laws Hall is a five-story, state-of-the-art dormitory offering the best amenities for the over 600 students it houses. Semi-suite and suite-style units are fully furnished with individual room temperature controls, large study areas, dining, and entertainment center, a large courtyard, hammocks, and space for outside dining. Security for residents was of the utmost importance and a camera system was installed along with digital key access for students. The building also includes offices for all campus housing at DSU, including space for all staff that manages residential halls.
Before construction could begin, two existing dorms that sat in the footprint of the project needed to be demolished. An interior brick wall of the new Tubman-Laws Hall was built from bricks and datestones preserved during the demolition. Additionally, the project location had underground utilities that fed all surrounding buildings. This required extensive underground utility relocations, all while remaining live to accommodate the occupied surrounding buildings that rely on them for their operations.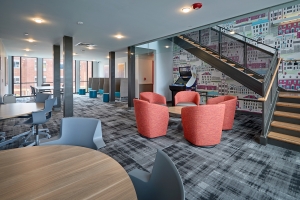 Back to Main Blog Page