Brubaker Run and the Chesapeake Bay Watershed
Why the Chesapeake Bay Matters
As the largest estuary in the United States, the Chesapeake Bay is home to a diverse population of plants, animals, and people. If you live in the Chesapeake Watershed, you've likely heard about the importance of keeping the bay pollution-free. The reason for the charge isn't just cheap seafood and good beaches. High levels of pollution could mean the loss of jobs, the creation of human health hazards, and loss the of precious habitats and species.
The health of the bay is dependent on the health of the tributaries in its watershed, which stretches more than 64,000 square miles and affects nearly 17 million people from Virginia to New York. Since 1983, The Chesapeake Bay Program has lead the effort to reduce the pollution of this complex ecosystem. Though much progress has been made, it's important to continue improving the health of this watershed.
Brubaker Run's Contribution
Brubaker Run, a stream running through Oak Tree Development's Lime Spring Square, is part of the Little Conestoga Watershed, a section of the Chesapeake Bay Watershed. As part of the 98-acre Lime Spring Square commercial development, Wohlsen Construction and LandStudies completed the floodplain restoration of the stream.
The project removed about 35,000 cubic yards of sediment from the floodplain, reducing pollution by at least 10 percent. Each year after, the project will continue to remove 250 tons of sediment from the Bay.
Sediment, including sand, silt, and clay, is a natural part of the Chesapeake. However, studies of sediment cores show a four- to five-fold increase in the sediment accumulation rates in parts of the Bay over the past two centuries. If the amount of sediment that runs into the Chesapeake is not maintained, it can cloud waters and wreak havoc on underwater life.
Benefits to Everyone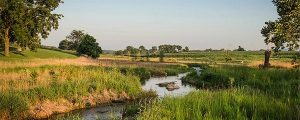 The Brubaker Run restoration exemplifies the quadruple bottom line framework. By considering the people, planet, purpose, and profit of the project, the floodplain restoration benefits all stakeholders and area residents. Offering pollutant load reductions and stormwater management, the project helps reduce pollution to the Chesapeake Bay. Additionally, our client, Oak Tree Development, benefits from an extra 100,000 square feet of space.
We are proud to be involved in such an important and beneficial project – one that shows progress does not have to come at the expense of the environment.
Back to Main Blog Page