Intern Spotlight – 2019
Seth Brewster, Project Engineer Intern          
Seth is working on-site with our team at the Oakwood Hills project in Mechanicsburg, PA.
"During my time at Oakwood Hills, I have been tasked with updating drawings, writing look-ahead schedules, keeping daily logs, performing takeoffs, organizing punch lists, and managing subcontractors. This internship has been an incredible learning experience for me; witnessing each phase of construction at Oakwood Hills. Additionally, this internship has confirmed my intent to become a construction manager. This December, I will take my first step toward this goal as I become a project engineer with Wohlsen! A great quote from a painting foreman- "If you're not learning, you're not living."
Anthony Crawford, Field Engineer Intern
Anthony is working with our Maryland team on the Tru Hotel in Baltimore, MD.
"My responsibilities as a Field Engineer include assisting the Superintendent, updating hard copy and Bluebeam drawings, managing the subcontractors on site, verifying the dimensions and locations of the materials placement that goes on the site, post any signage and maintain fencing around the site, perform safety orientation and toolbox talks, submit submittals and RFI, safety inspections, and much more. Things I have learned by being in the field include how to read drawings, the sequence of construction, tasks that happen before construction begins and the closeout/punch list of construction, how to notice problems within the drawings to submit RFI's, the importance of planning for upcoming deadlines. Before interviewing with Wohlsen, I wanted to take a Superintendent career path. This internship has inspired me to continue pursuing my career path to become a Superintendent."
Hue Duong, Project Engineer Intern
Hue is working with our Connecticut team on Allegro at Harrington Park, an independent assisted living community in New Jersey.
"I have been learning so much and getting familiar with CMiC, processing Change Orders, reading plan drawings, etc. What I love the most about working at Wohlsen is that everyone has been so welcoming and have generously spent time teaching and guiding me throughout my experience so far. This experience has helped me understand more of what a project engineer does and has helped me become more knowledgeable of what I want to do in the future."
Peter Friedrichsen, Project Engineer Intern
Peter is working on-site with our team at Sunrise Senior Living in Wilton, CT.
"Before starting as an intern with Wohlsen, I had very little job experience. I had worked in a grocery store prior to coming here, so when I came here I was nervous about being the new guy (while also being the youngest on the project). I came in and it didn't even matter to my team. They welcomed me and got me started right away on helping. I took 360 photos of key areas so that people who couldn't come to the job site could see the progress being made. I have also started helping with change orders and RFI's, something I had no idea about until I worked here. I am enjoying my time here greatly and learning as much as I can before I go back to school, this is a great opportunity for me to get ahead and get some field experience. This has helped my career path decision, because I'm starting to see how things come together and getting communication skills that can help me down the line."
James Hayward, Marketing Intern
James is a returning intern working with our marketing and business development team on a variety of brand development and client relations projects.
"I have always been interested in the construction industry because of the opportunity for the impact it has on a community. You get to meet and interact with a lot of the leaders of the area, giving Wohlsen the opportunity to really be involved and improve wherever they are working, and I wanted to be a part of that. My internship experience so far has been a real blessing with the opportunities that the Marketing and Business Development team have given me. From getting to help put together presentations for opportunity submissions to attending the LeadingAge PA conference. All have been helped me see what marketing is like in construction as well as get a feel for business development within the industry. I am looking forward to getting to work on more opportunity submissions with the team and learn whatever I can from the great Bill Forrey before he retires from Wohlsen."
Mary Hennessy, Estimating Intern
Mary is working with our Delaware Valley estimating team on various bids and estimates.
"I chose Wohlsen because I was excited about the opportunity to combine my Economics and Engineering backgrounds as an Estimator. In my time at Wohlsen, I have been involved in numerous projects. I have attended site walk-throughs, collaborated with subcontractors to receive bids and prices, completed take-offs in PlanSwift and created BlueBeam sets. I have learned how to read architectural blueprints and use software such as BlueBeam and PlanSwift as well as the importance of soft skills, such as communication and relationship building. My time at Wohlsen has helped shape my career path decision – going into college, I had hoped to find a job that combined engineering and economics. After two previous internships, I was becoming discouraged that this type of career did not exist. However, as an Estimating Intern at Wohlsen, I feel that my interests are finally being put to play in a real-world setting, which is very rewarding."
Conor Jackman, Estimating Intern
Conor is working with our Delaware Valley estimating team on various bids and estimates.
"In my time at Wohlsen, I've been introduced to the many different aspects of estimating. Every day I'm doing something different and exploring new programs that I would have never experienced otherwise. I've learned how to use Bluebeam to update drawings and SmartBid to contact subcontractors, I even attended a GC walkthrough, which helped me get a feel for how the space is and what the owner wants it to be.  I've learned that communication is key in our industry. Everything I do involves communication between Wohlsen, subcontractors, and clients. Being part of the estimating team has helped me gain a lot of knowledge about the field, and what it entails. Everyone here is always willing to answer questions and help me when I need it. This has helped me confirm I want to be in the Construction Industry, whether it be in operations or estimating."
Patrick Kiely, Field Engineer Intern
Patrick is working on-site with our team at the Heartis® Yardley Senior Living Community project in Yardley, PA.
"I have been shadowing my Superintendent and collaborating with subcontractors. I have learned a lot about the commercial side of things and have become very familiar with reading and identifying drawings. I enjoyed everything about this internship so far and could not think of a better guy to learn from than my superintendent, Art. He has been amazing in teaching me new things and walking me through things that I do not understand. I have met a lot of great people that work for Wohlsen and I hope to continue to grow a connection with them. This internship has helped me with my career path, and next year I hope to start my career with Wohlsen. This summer has been amazing, and I would definitely recommend this internship to other people."
Cassandra Koser, Project Engineer Intern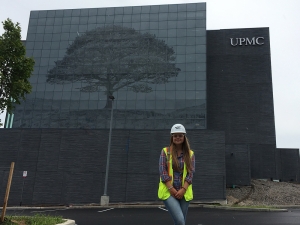 Cassie is working on-site with our team at UPMC Pinnacle in York, PA.
"My experience with Wohlsen has been great so far, whilst working on the UPMC Pinnacle project.  I have been learning very quickly due to the fast-moving pace of this project.  Most of what I do involves submittals, RFI's, and updating drawings.  As the project progresses, I am starting to get into the punch-list process and various other tasks.  There is always someone willing to help me, which makes the learning experience easier. What I enjoy most is being on-site every day and seeing how the different project roles collaborate and how the building itself changes in a day.  This internship has already taught me more than my college classes have about real-world situations.  The knowledge that I gain here will assist me in finding a career in the construction industry."
Abbey Lutz, Project Engineer Intern 
Abbey a returning intern working with our team at the Lycoming College Gateway Building in Williamsport, PA.
"I worked as an estimator for a subcontractor to Wohlsen during high school, so when I met them at the college career fair, I was eager to have them look over my resume. I was excited to be a part of the Wohlsen estimating team for two summers before moving into the field. I routinely monitor site safety, sit in on owner's meetings, and assist in coordinating subcontractors. My internship with Wohlsen has helped me create a career path and goals for the future. I know I want to be a Project Engineer and will be well prepared for the position upon graduation."
Nathan Merrill, Estimating Intern
Nathan is working with our estimating team out of our Operations Center, helping pull together various bids and estimates.
"I've learned so much about costing out all the different aspects of a project and how everything comes together in the estimating and preconstruction phases. I've really enjoyed that I've been given the opportunity to estimate many different divisions of a project and that I get a chance to look at everything in multiple projects, rather than just being stuck on one part of a single project. I really feel that this #internship has helped me look forward to going into the #estimating profession with good knowledge of how to be successful in the construction field. So far, this internship has been amazing and all of the people I work with are great."
Dan Redcay, Project Engineer Intern
Dan is working with our team at the Sycamore Townhomes project in Elizabethtown, PA.
"I've been tasked with quality control work such as punch list management. I am extremely excited about the experience because I am building soft skills by learning how to work closely with other members of a project team. I really enjoy being in the field and seeing the final product. I want to be able to tell my future children about the buildings that I have helped to construct. Everyone has been so instrumental in my learning experience, especially Steve Parks and Bill Bendokas. I love learning more about every trade and want to become a Superintendent one day."
Malaree Scott, Project Engineer Intern
Malaree is working with our project team on The Hill School Quadrivium project in Pottstown, PA.
"During my time on this project I have been tasked with completing lots of submittals, updating the Bluebeam drawing set, and meeting with subcontractors.  So far, I have enjoyed my time on this project and getting to know everyone involved with the project.  I have enjoyed learning about everyone's individual roles and how they all work together to complete the project in an efficient manner.  Overall, being an #intern at Wohlsen has helped me with my career path decision and allowed me to determine which type of #construction projects I enjoy."
RJ Swisher, Project Engineer Intern
RJ is working on-site with our project team on Long Crest in Lancaster and Tru Hotel/Home 2Suites in Easton, PA.
"I have been assigned all different types of tasks and responsibilities; every day is something new. I have worked on awarding jobs to subcontractors, reviewing submittals, RFI's, updating drawings in Fieldlens and Bluebeam, performing safety checks on-site, and running weekly reports. I have learned the different tasks that a Project Engineer, Project Manager, and Superintendent do for a construction manager. I am excited to be a part of the team and completing actual tasks for the projects. I like my career path in construction because every job is different, and you get to meet all types of people."
Back to Main Blog Page