Topping Off Ceremony for Hamilton Farm Golf Club
Posted in:
News
on November 3, 2016
Wohlsen Construction Company, located in Parsippany, NJ, and Hamilton Farm Golf Club, located in Gladstone, NJ, celebrated the topping off the club's additions and renovations on September 21, 2016.
The nearly-five-million-dollar improvement project is scheduled for completion in early 2017. It includes a new banquet hall, additions and renovations to the men's and women's locker rooms, and cart and bag storage areas. The project was designed by Bernardon, PC of Kennett Square, PA.
Hamilton Farm Golf Club is a first-class golf club designed by Dr. Michael Hurdzan and Dana Fry, nationally-known golf course architects.  With a reputation as one of the finest golf courses in the country, Hamilton Farms features an eighteen-hole championship course and a challenging par three. It became the only USGA-rated par three in the country. This beautiful estate provides lodging, custom-built homes, dining, and is home to the United States Equestrian Team, who uses the estate as its training ground for the Olympic Games.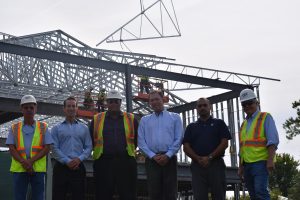 The "topping out" ceremony is said to have originated in 600 A.D. when Scandinavian builders celebrated the placing of the last piece of timber of a large structure or bridge. In the early 1900s, workers in the United States began hoisting an evergreen tree, along with the American flag, to the highest piece of steel in a high rise, according to Gary Langmuir, President of Wohlsen Construction.
For more information on the work Wohlsen is doing at the Hamilton Farm Golf Club, visit the project's profile by clicking here.
Back to Main Blog Page