Wohlsen Celebrates Ribbon Cutting Ceremony at Main Line Health's Concordville Center
Posted in:
News
on December 21, 2016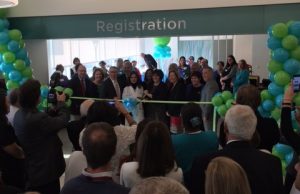 Wohlsen Construction Company and not-for-profit health system, Main Line Health, celebrated the Ribbon Cutting Ceremony and Grand Opening of the new Concordville Center on Wednesday, December 14th, in Glen Mills, PA.
Designed by architecture firm NELSON, the 131,500-square-foot multi-specialty health center features a variety of functions including an urgent care center, space for an extensive network of specialists and primary care physicians, and rehabilitation and physical medicine services. Involved since the preconstruction stage, Wohlsen constructed the three-story health center utilizing structural steel on a concrete slab. The project includes a 510-car, on-grade parking and extensive sitework.
Also included is a 55,000-square-foot fitness center and three saltwater filtered pools. Members will enjoy special fitness evaluations which will tailor their workout routines to their specific illnesses and activity levels.
To learn more about Main Line Health's Concordville Center, click here.
To learn more about our expertise in the healthcare industry, click here.
Back to Main Blog Page