Johnson Controls, Inc. – Middletown Distribution Center
---
New Construction
Project Type
Industrial
Sustainable
Project Description
Design/Build construction of a new LEED® Certified, 400,000 square foot wet cell automobile battery distribution and manufacturing facility with 22,000 square feet of attached office space.
Exterior walls are load bearing precast concrete with structural steel columns, joists and deck. Exterior and interior walls and underside of roof deck are all fully-painted. The roof is a fully adhered PVC membrane with two layers of polyisocyanurate insulation. There are 39 fully-equipped loading docks.
Other features include:
Operations flooring included Ff/Fl 45/35 concrete slab that is densified and polished in distribution areas. Production areas include a custom designed complex flooring system including areas sloped to floor drain trenches, and special surfaces including acid brick and special epoxy material
At the eave the floor to clear height is 32'. At the peak the floor to roof deck height is 40'
Underground stormwater infiltration system
Seven transformers and switchgear sets
Site features included full truck count with trailer drop pods
The building is fully-sprinklered with an ESFR system in manufacturing and distribution
Awards
Construction Excellence Award - Delaware Contractors Association
Green Excellence Award - Delaware Chapter of Associated Builders and Contractors
Award of Excellence - Delaware Chapter of Associated Builders and Contractors
Industrial/Manufacturing/Warehouse Project of the Year - USGBC Central PA Chapter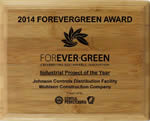 See More Wohlsen Construction Industrial Projects
See More Wohlsen Construction Sustainable Projects
Back to All Markets
Owner
Johnson Controls, Inc.
Architect
Becker Morgan Group
Location
Middletown, New Castle County, DE
Square Feet
422,000 square feet
Construction Time
Six months-Designed & Built